Mitsubishi Electric products configurators & selectors
Automation PLC controllers, VFD / servo motors and drives, LV contactors and breakers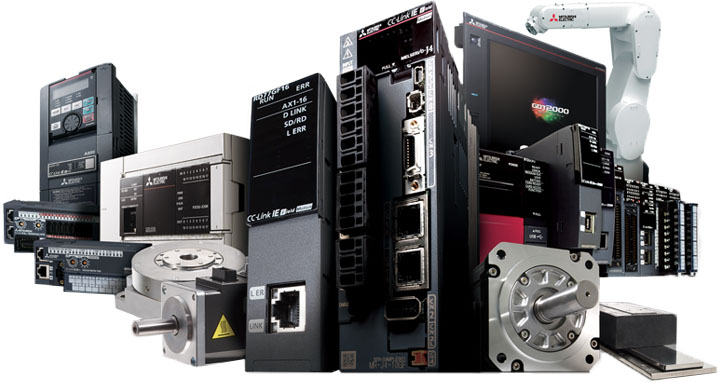 As one of many Mitsubishi Electric automation affiliates around the world, Mitsubishi Electric Automation, Inc., is part of a $40 billion global company serving a wide variety of industrial markets with a family of automation products including programmable logic controllers, variable frequency drives, operator interfaces, motion control systems, computer numerical controls, industrial robots, servo amplifiers and motors, and industrial sewing machines. The corporate philosophy of the company includes a commitment not only to providing superior solutions and service to Mitsubishi Electric customers, but also to contributing to the local community and creating a rewarding work environment for its employees.


---
Select categories to navigate Mitsubishi products:
---
1. MELSEC Programmable Logic Controllers (PLCs) and components
(back to index)▲
Whether you operate a stand-alone machine or factory and enterprise level systems, we design our products to meet your specific needs. Our full portfolio of automation control products leverage industry-leading technologies to help increase efficiency whether your requirements are basic or advanced.


---
2. GOT display units and HMIs
(back to index)▲
GOTs (Graphic Operator Terminals) provide an innovative operation and visualization interface. Whether your focus is centered on uptime, productivity or serviceability, Mitsubishi Electric offers a GOT solution that fits your machine, factory and enterprise level requirements.


GOT2000 series
GOT1000 series
GT21
GT21 Wide
GT23
GT25
GT25
Handy GOT
GT27
GT10
GT11
GT11
Handy GOT
GT12
GT14
GT14
Handy GOT
GT15
GT16
GT16
Handy GOT
See all HMIs
---
3. FREQROL AC Variable Speed/Frequency Drives (VSD/VFD) / inverters
(back to index)▲
We offer a comprehensive line of drive products and solutions that are designed to satisfy your needs, from the very simple fractional horsepower components to the large and complex multi-system drive architectures. Our Variable Frequency Drives are highly reliable and proven to deliver exceptional functionality year over year.


| FREQROL | FR-E500 | FR-A700 | FR-AF700 | FR-D700 | FR-E700 | FR-F700 | FR-F700P | FR-F700PJ | FR-A701 | FR-A800 | FR-A800 plus | FR-E800 | FR-F800 |
| --- | --- | --- | --- | --- | --- | --- | --- | --- | --- | --- | --- | --- | --- |
| See all variable speed drives | | | | | | | | | | | | | |
---
4. MELSERVO motion control (Servo motors, Servo drives, prefabricated cordsets/cables)
(back to index)▲
Mitsubishi Electric servo systems have become one of the most globally respected names in factory automation. The broad range of high quality servo offerings include standard safety features, multi-axis amplifiers, linear and direct drive motors, and world class performance for industrial automation applications.


---
5. Low-Voltage (LV) Moulded Case Circuit Breakers (MCCBs) and Miniature Circuit Breakers (MCBs, Circuit protectors)
(back to index)▲
Moulded Case Circuit Breakers (MCCBs) are utilized to open/close low-voltage circuits and protect wiring by automatically closing circuits when overloading or a short-circuit occurs. We offer a comprehensive range of standard molded case circuit breakers and molded case circuit breakers with earth leakage detection that provide superior performance in isolation and power distribution applications. Mitsubishi Electric circuit breakers offer easy to install internal and external accessories and ensure the best solution for electrical protection.


For over a half of a century Mitsubishi low voltage circuit breakers meet the needs of market. Including the WS-V series equipped with a new breaking technology, Mitsubishi Low Voltage Circuit Breakers have various lineups depending on the electric power market and the machinery.


Economy class
Standard class
High performance class
Motor
protection
Ultra current
limiting class
MCB
Circuit
protectors
UL1077
NF-C
NF-S
NF-H
NF-L
NF-R
NF-MB
NF-U
See all MCCBs
---
6. Magnetic contactors - AC-3 contactors, for Direct-On-Line/Full-Voltage Non-Reversing (DOL/FVNR) or Reversing (FVR) motor starting
(back to index)▲
Enables precise control for your motor.
Allows you to remotely control other loads than motors,such as heaters(resistors) and lighting loads.


---
7. Thermal Overload Relays (TOR) and Electronic Overload protection Relays (EOR) for motor loads
(back to index)▲
Thermal overload relay that protects your motor against burnout.
Can be used as protection against motor burnout during overload or locked rotor, and offers a wide range of specifications to meet various needs, including protection against overload and phase loss, time lag, quick connect, etc.

ET-N relay is an excellent relay that can protect motors electrically.
That selectable protection mode is overload, phase failure(including locked motor condition), incorrect phase sequence.